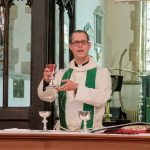 Vicar
The Rev'd Michael Bigg
e: vicar@madingleychurch.org  t: 01954 332040 m: 07380 809 377
[Please note that Michael's regular day off each week is Friday.]
Michael grew up in Cambridge (just off Mill Road), attending the Netherhall School and then Hills Road Sixth Form College. After 4 years of working in IT as a self-taught programmer, he felt the lure of finding out more about his faith and went to Durham to read Theology for 3 very happy years.
After returning to Cambridge to complete an MPhil in New Testament studies, he trained as teacher of RE. Michael spent a challenging year as the only RE specialist at what was The Manor in Arbury, he then settled at Comberton Village College and became Head of Department.
While teaching at Comberton he met his wife, Kathryn, and they were married in 2012. Shortly after being married he gave in to the call to ordination (you can ask him about that, if you like!) and so entered the discernment process.
In 2015 he started training for ministry at Ridley Hall and was ordained in 2017 to serve in the parish of East Leightonstone (Brampton, Grafham and Ellington) in Ely Diocese. Here he greatly valued the sense of village community life and was heavily involved in encouraging all three congregations to develop their own gifts.
Michael is a great believer in lay ministry and loves to see all of God's people exploring the gifts God has given them to use for the flourishing of the church and surrounding communities. He is looking forward to discovering the things that God is already doing in both Girton and Madingley and hopes to find that there are many ways in which God's faithful (and would-like-to-be-more-faithful) people might seek to serve in the years to come.
Kathryn is a maths teacher and she's currently working on an artificial-intelligence-based online maths learning platform. She and Michael have three boys: Matthew (6), Thomas (4) and Joseph (2). They are a lovely handful.
In Michael's spare time he likes to do a range of things including reading, cryptic crosswords and chess. He is hoping that having a ½ time job will allow him the capacity to take up playing the trumpet and (perhaps) cricket again.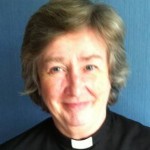 Associate Priest
The Revd Christine Barrow
e: mcbarrow@me.com t: 01223-575089
Christine was licensed to serve at St Mary Magdalene Madingley in October 2012 when the parishes of Girton and Madingley were linked. She trained for ordained ministry at Westcott House, and served her curacy at St Andrew's Church Girton. Prior to that, she had trained at Homerton College as a teacher, and spent 14 years with her husband Harry and their two sons in California, where her call to ordination was first discerned. Her particular interests in the church lie in accompanying individuals in their journey of faith, (often referred to as "spiritual direction"), and in encouraging the education of both adults and children in the faith. For relaxation, Christine enjoys reading, particularly detective novels, and sewing. She is a keen follower of the England cricket teams, (male and female), and restores her peace of mind with a variety of music, mainly classical but also some from the folk tradition.