"DICK SEALE AND MADINGLEY PARISH CHURCH"
THE TRIBUTE GIVEN AT THE SERVICE OF THANKSGIVING FOR HIS LIFE
Wednesday 5th November 2014 at 2.30 p.m.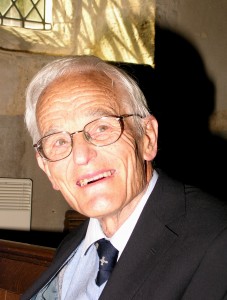 It is evident from the flood of messages that have been received over past days just how much Dick meant to the Madingley congregation.  On their behalf I am going to attempt to record the contribution that he made and the legacy that he has left to us. 
Dick was a central and greatly-loved member of our Church Family for fifty years.  He was one-half of an amazing partnership (with Alan Clarke) of long-serving church wardens and, with Elizabeth's support, he gave devoted and prayerful service to this Parish.  Dick was hard working and loyal, he was modest and kind, he led this community through his Christian example and he was something of a polymath, as demonstrated by his many areas of expertise and knowledge including those of church and natural historian and artist.  
After joining the congregation in 1963 Dick was quickly elected sidesman and by 1966 was a member of the Church Council.  Over the following years he was appointed 'Deputy Secretary', Deanery and Diocesan representative and then in 1975 'Assistant Secretary'.  It is not recorded what these secretarial appointments entailed but as one of the Church Wardens was well into her 80s by then, it seems that Dick was quietly and sensitively carrying out many of her duties.  Dick was finally elected official People's Church Warden in 1979, as well as Secretary and Electoral Roll Officer – a total of five different 'church hats'.  At this time it was customary for there to be three services on Sundays, each one requiring one of the church wardens to be present to set up and assist, so there was much journeying back and forth from Conduit Rise.  The 70s and 80s saw periods of interregnum, with Dick taking responsibility for finding clergy willing to take services and dealing with all the other organisational matters involved in 'keeping the show on the road'.  He even led Evensong and played the organ once!  As always, Elizabeth was by Dick's side, supporting and helping him: such a partnership of devotion, love and faith. 
Dick was honoured to have the Bishop's permission to administer the chalice at Communion Services in the Parish.  He read the lesson with the vigour of an old testament prophet, in a voice far removed from his usual quiet whisper – indeed it was joked that he kept the voice locked up in the church safe. Elizabeth remembers that on one occasion he brought broken reading glasses with only one arm.  However he carried on – with one hand gripping his glasses and the other turning the pages of the large lectern Bible. 
Dick's fascination for history and architecture has been of enormous benefit to this church.  The hours of research he spent at the Archive Office, or pouring over papers on the kitchen floor, resulted in the publication of the fascinating 'History of Madingley Church'.  Then he turned this information into the magnificent timeline displayed just inside the North Door (a regular stopping off point for visitors to the church) and the list of vicars of Madingley stretching back to 1278, which is displayed behind the Vicar's Prayer Desk.  Without all of this work we would not have known that there were 900 years of recorded evidence of a church on this site and we wouldn't have enjoyed the celebrations of 1992 that included Prince Philip and the Tudor Fayre (or seen Dick decked out in doublet and hose).  This outpouring of historic information was accompanied by Dick's beautifully detailed drawings which have been used for publications, notelets and publicity ever since.  In 2000 his drawing of the north elevation of the church was deposited in the Millennium Time Capsule buried in the floor at Ely Cathedral.  Dick created the Easter Garden display we use every year and when the Nativity figures were accidentally damaged one Christmas, he spent hours gluing them back together (you'd never know) and even created a matching sheep from scratch to replace one that had disappeared.  
As present Secretary I have inherited Dick's files of Minutes and historical documents.  The Minutes are extraordinarily detailed – the early ones in his own hand, often stretching around the sides of the paper and then, later, in typescript.  He made a copy of 40 years of Madingley entries from the Diocesan Newsletter dating from 1896, which he gifted to the local History Group.  On the basis of this information the Group was able to include previously forgotten details of Madingley life through that period for the Village Millennium exhibition and map. 
Dick knew a great deal about the natural world, giving a talk to the History Group about the excavation of Coprolites from the fields of Madingley during Victorian times, advising about the different species of bat to be found in this church and supporting William on countless toading expeditions late into the night (and, during Summer months, mending holes in the damaged toad fence with his own version of string crochet).  When the BBC Inside/Out team were filming at the church and needed a toad to include in the story, Dick was made 'toad keeper' for the day – perhaps a rather more unusual church wardening job? 
Dick supported many church fund-raising efforts, demonstrating his drying-up and tour guide skills at church teas and his loyal support of the Cambridgeshire Historic Churches Cycle Ride from 1991 until 2007 when, at the age of 83 he cycled 24 miles visiting 13 churches and chapels.  Sara and Henry remember cycling with him on one occasion – they rode slowly out of respect for his age and Dick rode even more slowly so as not to exhaust Sara and Henry.  The trip took many hours as they progressed through village after village, visiting 21 churches together before the Days peeled off after Girton and Dick carried on to Cambridge to add more names to his list.  He must have raised thousands of pounds during those years.
 A true gentleman, Dick's ready smile, friendship and kindness will long be treasured by his church family here in Madingley and his legacy surrounds us, in this church that he loved.